A FESTIVE SET TABLE
Awaiting the arrival of friends
BEAUTIFULLY WRAPPED PACKAGES
With thoughtful gifts placed inside
MY HOME FILLED WITH LOVE
By the sound of laughter, warm hugs, and cherished friends.
Although this holiday season has been one full of emotional ups and downs, it's also been one where I have been able to truly feel love, joy, and comfort when I most needed it. I haven't had, or I maybe it's best to say I haven't allowed myself alone time to write or post on this little blog of mine.  A few days ago, a dear friend (she knows who she is) reminded me to take the time to self care, a reminder I truly needed.  I also realized this holiday season is coming to a quick end and I hadn't even shared one of the joyous moments of the season.
I've been hosting an annual Christmas Brunch (tea party) for years and last year we decided to change the theme to: "THESE ARE A FEW OF MY FAVORITE THINGS".  Each of person carefully decides on one of her favorite things and then purchases or makes (3) of these and brings them to the party all beautifully wrapped.
(this was one of my little party favors)
After brunch, which this year consisted of a build yourself yogurt parfait, followed by blueberry-lemon ricotta pancakes and a cheesy sausage frittata. . .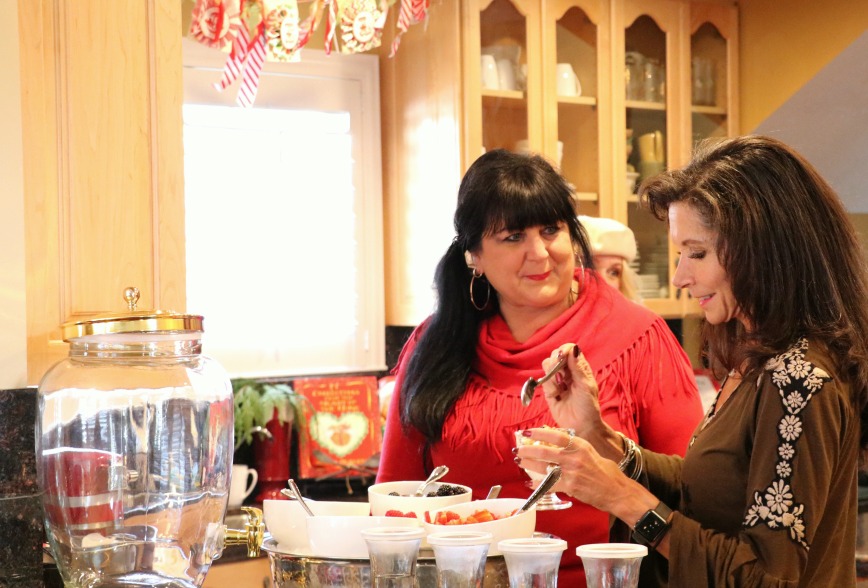 we all gather in my family room.  It's nice and cozy just like friends would prefer.
I make little name tags (3 per person) and we go around picking out three different names.  The names you draw will be the ones receiving the gifts you brought.  Since each gift is specially thought of we each take turns telling why we chose that particular gift before passing them out.  As you can see, we enjoy playing Santa as much as we do receiving them.
I don't know if "Believe" was meant to be a re-occuring theme with the gifts, but I for one, BELIEVE with all my heart that when you need to feel loved, or full of joy, or comforted . . . the best place to find it is in your home surrounded with cherished friends and family.
I certainly hope you all had a joyous Christmas full of love and hope.