Who said back -to-school parties were only for kids?
I mean, we're all kids at heart, right?
If you have been a regular follower of mine you already know some of my professional background which just so happened to be in the education field.  I was actually an elementary school teacher (6th grade) before I chose to stay home and raise my kiddo's full time.  I have a deep and profound love for education and always will.  Therefore as each school year approaches and I see the neighborhood kids getting ready for their first day of school and notice all the fun accessories at the local stores I always get a little excited about a new start, a new beginning, a new chapter of learning.
BECAUSE .  .  . YOU SEE, WE ARE NEVER TOO OLD TO LEARN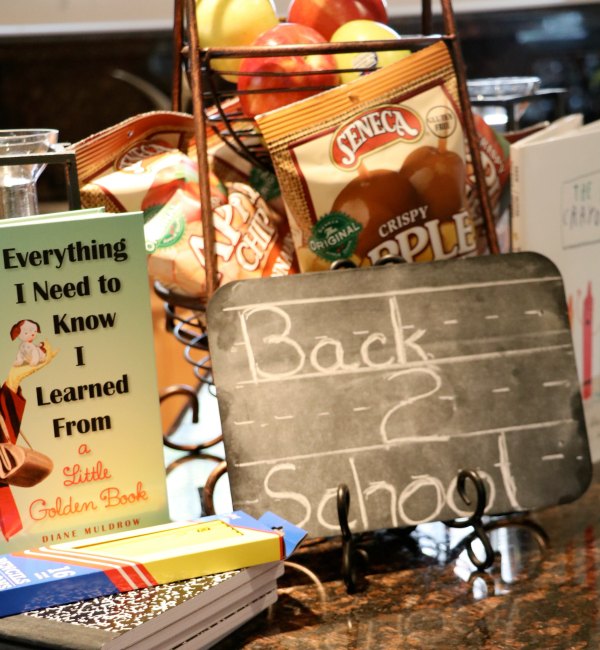 So when my ever creative friend Margie Aslett (you can find all her fun mostly on instagram @justagirl) posted a fun back to school mantle, I quickly sent a message telling her we needed to start a yearly tradition "back-to-school" luncheon.
Here's my version on how to throw a grown up back-to-school luncheon.
But seriously, for all you young parents, go ahead and throw it for your kids as well.
I began by gathering basic school supplies . . .
#2 pencils
glue sticks
crayons
markers
notebooks
lunchboxes
rulers
and all things with numbers and letters.
Then I began creating my tablescape . . .
I found this incredibly adorable material at my local Joann's and had on piece cut to fit the length of my table and the other to fit as a table runner. They will make some fun pillows for Molly's playroom afterwards.
I couldn't resist ordering some vintage lunch trays, they simply just set the entire mood for the table and luncheon.
I bought each guest a tradional notebook and box of crayons . . .
which I tied together with twine and clipped on a mini chalkboard with their names.  This served as a place card and a little take home present.
For the rest of the tablescape I simply added all the supplies I had gathered.
Placing some in apothocary jars added some charm as well as my vintage lunch box and homemade doll.
I used vintage child craft books for some added details but any kind of books would be fun.
For the menu . . .
Well it was a school lunch, right?  And with these fabulous lunch trays I knew I had to keep it school lunch style so I decided to serve my favorite schools lunch from when I was a kid, good old Hawaiian Haystacks and fresh vegi's and fruit in cups as well as boxed juice. I actually served a chocolate smoothie in milk jars as an appetizers.  And the dessert was an apple cake.
You can easily pick up scrap book papers to add as table runners as I chose to do for the food station (thank you Margie for taking this picture which I stole since I forgot to take any of the food station).
We spent the afternoon going down memory lane and laughing the entire time.
And you know me, can't let my friends go home empty handed . . .
So along with their notebooks and crayons I printed them off a cute story I had read during the lunch which I tied with some of the cute crayon material, a little homemade booklet full of sayings about how we're never too old to learn which I put together and then added one of Margie's famous junk bows, and then a yummy carmel apple with a fun little saying (found on Rhonna design).
You can bet this will definetly be a yearly tradition.
Linking up with Jo, Jann and Carol for SYC