The zest for lemons all began with the purchase of this planter box.
The color palette was so sweet and refreshing I simply needed to spread it around.
                                    Like in the flower beds . . . 
                                    I'm certain the birds will appreciate it . . .
                                   The home of my (soon to be) Herb garden
                                    Now, is this bench inviting or what?
I'm not one to wear a lot of yellow but after all the gardening and painting, I couldn't resist.
This is my way of taking a fancy dress down a notch and making it a more casual, go anywhere kind of dress.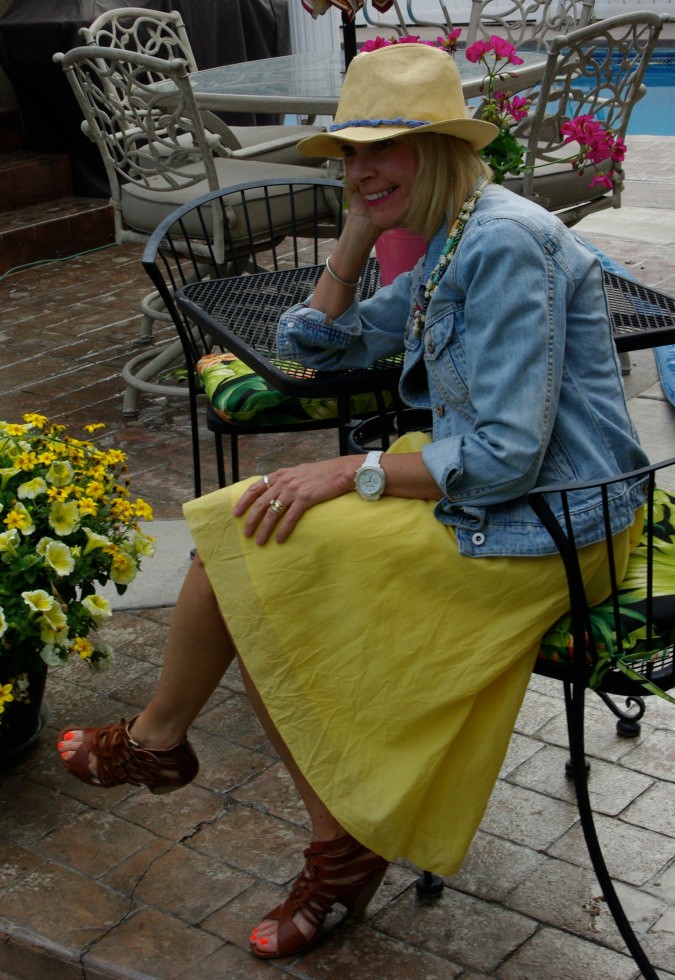 This is a bit more elegant, great choice for summer weddings.
             Did you know?
                                  *Lemon balm has a calming effect
                                  *Lemons can relieve fever and cold symptoms
                                  *Lemon poultices applied overnight are a good rememdy for calluses
                                  *Lemons can fight fatique
                                  *Lemons freshen your breath
                                  *Lemons are a great source of vitamin C
                                  *Lemons make a versatile household cleaner
Dip halved lemon in salt for a bit of gentle abrasive power, then scour brass, copper, stainless steel pots, pans, and sinks.
Or throw used lemons in a disposal to deordorize it.
                        *This is my favorite:  mix  8 drops of lemon oil, 1 cup of luke warm water,
1Tbl. honey and rub it on your hands and feet at night. You will wake in the morning with skin as soft as a babies.
Do  you have any known secrets for using lemons?
Have you used this color palette in your yard or better yet with an outfit?
I do believe I'm now heading out for an ice cold glass of lemonade.
Thanks for dropping by, have a wonderful day.
Linking up with Marion of Marion berry style for Trend of the Month Link-Up: yellowand with Patti for Visible Monday.